Baby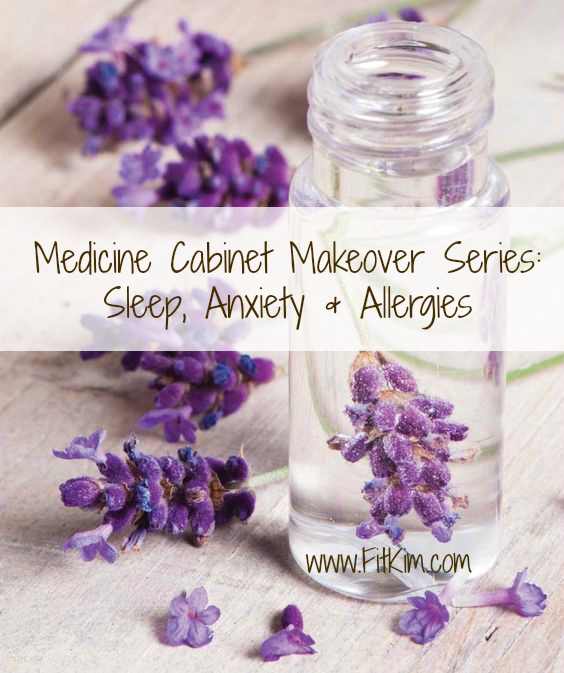 Today we're tackling another section of our Medicine Cabinet Makeover that will cover trouble sleeping, excessive worrying or anxiety and natural remedies for allergies. If you haven't read Part 1: Cold & Flu, please do that now.
So let's dive in!
When it's hard to sleep:
Rescue Sleep-this is by Bach Flower Essences and is amazing. This helped me a ton when I had to wake up to feed Addison or Elise during the night.
Lavender-you can either rub some of the oil on your temples, put 10 drops in a diffuser or a few on your pillow.
Sound Sleep-I really like this one if I'm overly tired and am having a hard time falling asleep. Gaia Herbs makes it and they are the #1 herbal company in the world.
Sleepytime Tea-it's a great idea to turn off all electronics 30 minutes before bed, so to go along with that, make yourself a cup of tea that has nutrients in it that can help us to shift gears and start to prepare for rest. I like to add a little milk to it!
Anxiety or excessive worrying:
Ashwagandha-this is

one of the most powerful herbs in Ayurvedic medicine and has been used since ancient times for a wide variety of conditions including anxiety, worry and depression. It is an adaptogen which means it can possibly help us adapt to stress and life changes if we consume it.

Goji Berry-this amazing superfood is native to the Himalayan mountains and is nicknamed the "happy berry." It is what is called a secretagogue which helps us to naturally produce more of our feel good hormones. Use promo code FITKIM to receive 20% off and free shipping here.
Chamomile or Lavender-these essential oils are both known for their calming properties so it's a good idea to have them on hand. You can even receive benefits from them just by inhaling them!
For allergies:
Apple cider vinegar-reduces mucus and cleanses lymphatic system. I recommend mixing 1 Tsp. in water three times daily).
Neti pot– this is a little weird at first, but once you get the hang of it, you'll be hooked. There are specifically salt blends you can buy online or at a health food store, just make sure you do not use tap water unless you boil it first and let it cool.
Peppermint nettle tea-this tea inhibits histamine reactions and common symptoms associated with a variety of allergy issues.
Essential oils-try any of these top five essential oils for allergy relief (lemon, eucalyptus, peppermint, basil or tea tree). You can inhale or diffuse them for the best results.
And now you're ready for the last section, Part 3: Aches & Pains-great job!

Like this post? Click here to see how you can get my 30 Day Meal Plan and four SuperFit Kitchen Cookbooks to skyrocket your results!
*The information on this site is designed for educational purposes only and has not been evaluated by the Food and Drug Administration. It is not intended to be a substitute for informed medical advice or care. You should not use this information to diagnose, treat, cure or prevent any health problems or illnesses without consulting your pediatrician or family doctor.
*In addition, there are affiliate links throughout this site and I may receive a commission if you click through and make a purchase. Thank you!