Recipes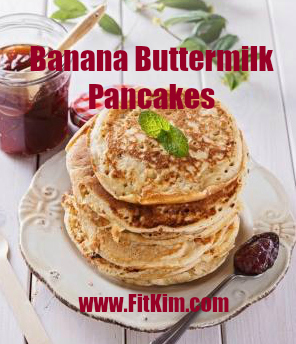 This recipe was first featured on Kerbey Lane's blog as one of 4 Decadent Ways to Upgrade Plain Pancakes!
If you've ever been to Austin, I bet you've either been to or heard about Kerbey Lane Cafe. Austin is known for interesting food in different formats, and Kerbey Lane stands out for sure!
Well to my surprise, I found a pancake mix at HEB made by Kerbey Lane and had to give it a try. Instead of sticking with the same old boring pancake mix, try this recipe I created and watch how your entire family responds.
10-12 Pancakes
Prep Time: 5 minutes
Cook Time: 5 minutes
Total Time: 10 minutes
Ingredients:
4 Bananas, mashed
2 Eggs*, at room temp (V)
2 cups Kerbey Lane Buttermilk Mix
1 cup Water, at room temp
1 scoop Protein Powder (optional)
Directions:
In a bowl, combine mashed bananas, eggs, mix and water until it is well blended.
Let batter sit for 3-5 minutes.
Heat a large pan or griddle over medium-high heat (375 degrees with a griddle pan). Spray with cooking spray and add pancake mixture to make up four to six pancakes at a time.
Cook each side for about 2-3 minutes or until golden brown.
Serve with maple syrup or top with fresh berries.
V: replace with vegan egg substitute such as Ener-G Egg or ½ a banana
Save
Like this post? Click here to see how you can get my 30 Day Meal Plan and four SuperFit Kitchen Cookbooks to skyrocket your results!
*The information on this site is designed for educational purposes only and has not been evaluated by the Food and Drug Administration. It is not intended to be a substitute for informed medical advice or care. You should not use this information to diagnose, treat, cure or prevent any health problems or illnesses without consulting your pediatrician or family doctor.
*In addition, there are affiliate links throughout this site and I may receive a commission if you click through and make a purchase. Thank you!