SUPERFIT KITCHEN COOKBOOK SET & 30 DAY MEAL PLAN
Are you sick and tired of trying one diet after the other?
Do you have a hard time knowing what food to buy to make healthy meals throughout the week?
Is your schedule so busy that you have very little time in the kitchen?
If so, then this program is perfect for YOU!
One of the hardest parts about eating healthy is knowing what to eat and how to meal plan so I have done all the work for you! These FitKim-approved meals are focused on revving up your metabolism, boosting your energy levels and helping you burn fat, fast! What people love most is you don't have to count calories or spend hours in the gym!
What you'll get:
4 Weekly Menu Plans, including 140 meals that are super easy to make and incorporate utilizing leftovers


Family-Friendly Recipes that include Gluten Free, Dairy Free and Vegan options

An interactive Table of Contents that allows you to locate a recipe by a click of a button

25 Bonus Cooking Videos

A Grocery List covering every section of the store

Tips & Tricks to help you stay on track
It is helpful to have a plan to start, but eventually you will want to change things up and start branching out on your own. To do just that, you will also receive 4 of my Cookbooks:
A SuperFit Kitchen at Breakfast Time

SuperFit Kitchen-Soups, Salads & Sides

Your SuperFit Kitchen-Main Dishes

SuperFit Kitchen-Desserts, Drinks & Snacks
In total, you'll receive over 160 simple and healthy recipes to choose from, 4 weeks of meals already planned for you, and all the tips you'll need to get started and stick with it!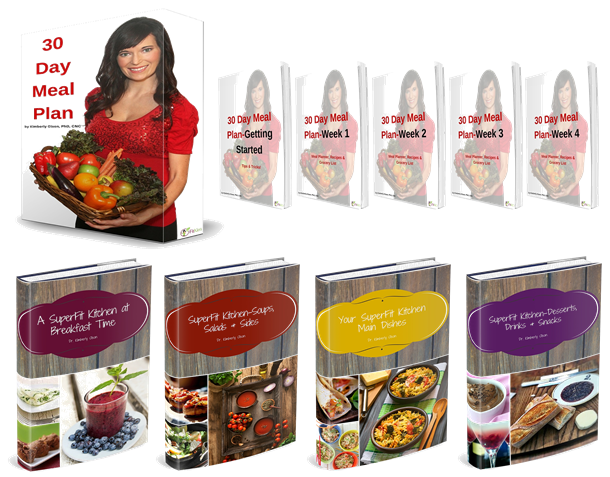 *The information on this site is designed for educational purposes only and has not been evaluated by the Food and Drug
Administration. It is not intended to be a substitute for informed medical advice or care. You should not use this
information to diagnose, treat, cure or prevent any health problems or illnesses without consulting your pediatrician or
family doctor.
*In addition, there are affiliate links throughout this site and I may receive a commission if you click through and make a purchase. Thank you!
Tags: diet plans, diet meal plans, healthy meal plans, weight loss plans, diet meal plan