Recipes

Interested in learning how to make your own protein bars? Great for on-the-go and they are super easy to make!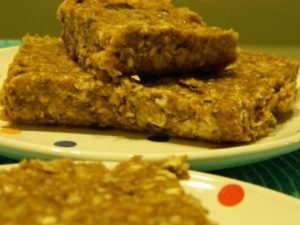 Ingredients:
2 cup oats (quick cooking)
¾ cup almond or cashew butter
3 scoops whey protein powder (chocolate or vanilla)
1 Tbsp. ground flax or chia seeds
½ cup water
1 Tbsp. honey
Directions:
1. Place first 5 ingredients in a large bowl. Kneed into a dough-like consistency.
2. Place mixture in a large storage container and press down so the top surface is consistently flat.
3. Place in the freezer for 30 minutes.
4. Remove container from freezer and drizzle with honey. Cut into squares and enjoy!
Servings: 12 Prep Time: 35 minutes Cook Time: 0 minutes
Nutritional Content per serving:
Calories: 99 Protein: 9g Carbs: 10g Fats: 2g Sugar: 1g Fiber: 2g
Like this post? Click here to see how you can get my 30 Day Meal Plan and four SuperFit Kitchen Cookbooks to skyrocket your results!
*The information on this site is designed for educational purposes only and has not been evaluated by the Food and Drug
Administration. It is not intended to be a substitute for informed medical advice or care. You should not use this
information to diagnose, treat, cure or prevent any health problems or illnesses without consulting your pediatrician or
family doctor.
*In addition, there are affiliate links throughout this site and I may receive a commission if you click through and make a purchase. Thank you!