Recipes


Craving something sweet and salty? Try these delicious Peanut Butter Cookies to satisfy your dessert craving!
18 Servings
Prep Time: 5 minutes
Cook Time: 15 minutes
Total Time: 20 minutes
Ingredients: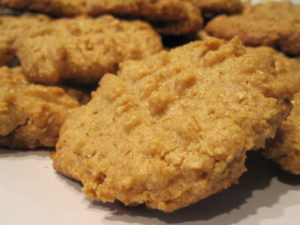 1 cup Peanut Butter*
¾ cup Sugar*
1 Egg*, at room temp (V)
1 Tsp. Vanilla or Almond extract
sea Salt (as needed)
Directions:
Preheat oven to 350°F and line a baking sheet(s) with parchment paper. Combine all ingredients and mix well.
Drop large rounded tablespoons onto the baking sheet(s). Take a fork and press it down on top of each ball in two directions to form criss-cross marks. Sprinkle with sea Salt.
Bake for 10-12 minutes or until cookies are golden brown. Allow to cool.
V: use vegan Egg or mix 1 Tbsp. ground flax with 3 Tbsp. water
*use organic
Like this post? Click here to see how you can get my 30 Day Meal Plan and four SuperFit Kitchen Cookbooks to skyrocket your results!
*The information on this site is designed for educational purposes only and has not been evaluated by the Food and Drug
Administration. It is not intended to be a substitute for informed medical advice or care. You should not use this
information to diagnose, treat, cure or prevent any health problems or illnesses without consulting your pediatrician or
family doctor.
*In addition, there are affiliate links throughout this site and I may receive a commission if you click through and make a purchase. Thank you!