Recipes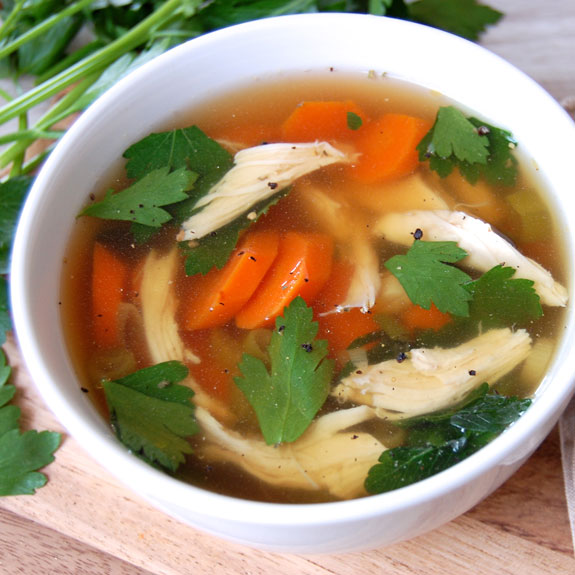 When the weather starts cooling down, there is nothing like a steaming hot bowl of chicken noodle soup! Kick Campbell's to the side and whip up this super easy and yummy recipe.
Ingredients:
6 cups chicken broth
2 chicken breasts, fat trimmed
1 cup celery, chopped
1 cup onion, chopped
1 cup baby carrots, chopped
1 parsnip, chopped
1 garlic clove, minced
1 bay leaf
1 Tsp. black pepper
2 cups uncooked noodles
¼ cup fresh dill, chopped
Directions:
In a large saucepan, combine broth, chicken, celery, onion, carrots, parsnip, garlic, bay leaf and pepper. Cover and bring to a boil.
Reduce heat and simmer 25 minutes, or until chicken is cooked and vegetables are tender.
Remove bay leaf. Remove chicken to a plate and cool slightly. Add noodles to soup, cover and simmer 10 minutes.
Shred chicken and add to soup along with the dill.
Nutritional Content
Servings: 8 Prep Time: 10 minutes Cook Time: 45 minutes
Nutritional Content per serving:
Calories: 197 Protein: 21g Carbs: 20g Fats: 4g Sugar: 0g Fiber: 3g
Like this post? Click here to see how you can get my 30 Day Meal Plan and four SuperFit Kitchen Cookbooks to skyrocket your results!
*The information on this site is designed for educational purposes only and has not been evaluated by the Food and Drug Administration. It is not intended to be a substitute for informed medical advice or care. You should not use this information to diagnose, treat, cure or prevent any health problems or illnesses without consulting your pediatrician or family doctor.
*In addition, there are affiliate links throughout this site and I may receive a commission if you click through and make a purchase. Thank you!