Recipes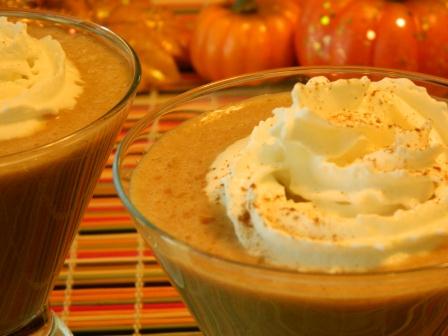 Ingredients:
2 cups almond milk
1 banana
1-2 scoops whey protein (vanilla would be best)
1 cup canned pumpkin
1 Tsp. maple syrup (can use 2 Tbsp. raisins instead)
1 Tsp. vanilla extract
½ Tsp. cinnamon
¼ Tsp. ground ginger
¼ Tsp. ground nutmeg
¼ Tsp. ground cloves
¼ Tsp. all spice
Whipped cream (optional)
Directions:
Blend all ingredients (except whipped cream) together until light and fluffy.
Pour into 2 glasses and top with whipped cream. Sprinkle with cinnamon and enjoy!
Nutritional Content
Servings: 2 Prep Time: 4 minutes Cook Time: 0 minutes
Nutritional Content per serving:
Calories: 220 Protein: 14g Carbs: 33g Fats: 4g Sugar: 16g Fiber: 9g
Note: Add ½ cup Greek yogurt for a creamier version!
*The information on this site is designed for educational purposes only and has not been evaluated by the Food and Drug Administration. It is not intended to be a substitute for informed medical advice or care. You should not use this information to diagnose, treat, cure or prevent any health problems or illnesses without consulting your pediatrician or family doctor. Thank you!
~by Kimberly Olson
About Me