Recipes

When I think of making a stir fry dish, images of chefs at Asian restaurants or YouTube videos of fancy wok equipment comes to mind. And for some reason this has always intimidated me. But not anymore! This is now a staple in my meal planning because it's simple, healthy, versatile and provides plenty of leftovers:)
Ingredients:
2 cubed Chicken Breasts or 1 lb of Shrimp (can use Tofu instead or just omit and marinate veggies instead)
2 Tbsp. Stir Fry Sauce (you can use more if you want)
32 oz Vegetable or Chicken Broth
2 cups Brown Rice
1+ Tbsp. Coconut, Sesame or Grapeseed Oil (divided-use a bit for each batch, see directions)
1 Red Bell Pepper, seeded and diced
2 cups Sugar Snap Peas (or about 15 oz. bagged)
2 cloves Garlic, peeled and minced
1 bunch Green Onions, diced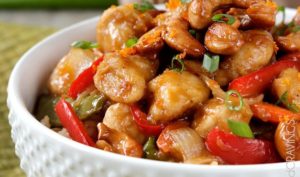 Directions:
1. Place shrimp/chicken/tofu in a zip lock bag or bowl and marinate with stir fry sauce until ready to cook.
2. Bring broth to a boil, add rice, cover and reduce to a simmer. Continue to cook, stirring occasionally, until liquid is absorbed.
3. Heat a pan on high heat (I love using a cast iron skillet for this!) for a minute or two and add oil. Add pepper and cook for 1-2 minutes, remove and set aside.
4. Add a little more oil if needed, place peas in pan, cook 1-2 minutes, remove and set aside.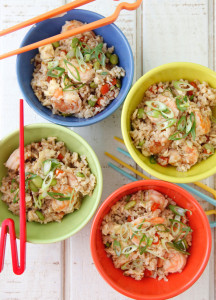 5. Add more oil if needed and place shrimp/chicken/tofu in pan and cook for about 4 minutes, stirring half way through. Add garlic, onions, peppers and green onions and cook for another minute or two.
6. Place rice in bowls and top with the rest of the ingredients and mix gently. You can freeze the leftovers, eat for dinner the next night or even add to a tortilla with some feta to mix it up. Enjoy!
Like this post? Check out my 21 Days 2 a New You Program and see how you can get my book for free!
*The information on this site is designed for educational purposes only and has not been evaluated by the Food and Drug
Administration. It is not intended to be a substitute for informed medical advice or care. You should not use this
information to diagnose, treat, cure or prevent any health problems or illnesses without consulting your pediatrician or
family doctor.
*In addition, there are affiliate links throughout this site and I may receive a commission if you click through and make a purchase. Thank you!