Recipes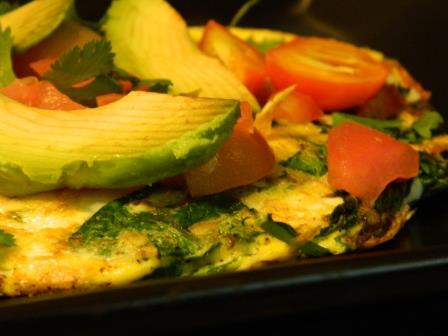 Ingredients:
½ Tbsp. Coconut Oil
1 cup Arugula (can use other greens)
2 Eggs
2 Green Onions, diced
1 Tsp. each of Paprika, Turmeric, Cumin, Black Pepper or other spices
½ Tsp. Sea Salt
1 small Tomato, diced
¼ Avocado, sliced
1 Tbsp. Cilantro, chopped
Directions:
Heat coconut oil in a small pan over medium heat.
Add arugula to pan and gently stir until arugula begins to wilt.
Add the eggs and mix together with the arugula.
Top mixture with the paprika and other spices.
Let bottom set by waiting a couple of minutes. Gently lift omelet to check firmness and flip when ready.
Let cook for one to two minutes and transfer to a plate.
Top omelet with tomato, avocado and cilantro.
Servings: 1               Prep Time: 2 minutes                    Cook Time: 5 minutes
Nutritional Content per serving:
Calories: 291     Protein: 12g       Carbs: 9g       Fats: 25g       Sugar: 4g       Fiber: 2g
~by Kimberly Olson
About Me

Pin It