Health

I am always getting asked what makeup I use and other body care products, so I wanted to post a quick review on a few that I have been using for a couple of years. When I switched over to natural products (goodbye my beloved L'Oréal!), I was shocked to find out that the health food stores carried "natural" products that were just as toxic as the stuff I'd just got done throwing away! If you're ever unsure, just go to EWG's SkinDeep.org site  or scan the bar code on your smart phone with their app, and it will tell you if the product is clean or toxic.
For makeup, I honestly only wear mascara and a little blush in the winter months. If I have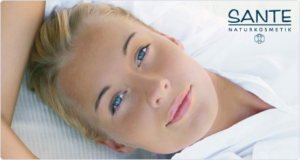 a TV segment or an in-person interview, I'll wear lip liner and gloss. I have tried many mascaras out there and I LOVE Sante's! I also really like their lip liner because it stays on for hours and you don't end up looking like a clown or anything lol:). The rating on EWG is higher because these products have a fragrance, but if you actually read the ingredients it's from essential oils. One other product I just started using is their Goji & Olive hand cream and it's creamy but doesn't have an overpowering scent.
Note: Enter coupon code – fitkim – (coupon code is case sensitive) at Internatural.com  to receive 10% off Sante Organic Bio-Goji & Olive Hand Cream (30 ml size only).  item – 667039  coupon valid entire month of July.  
The other brand I wanted to review is Beauty Without Cruelty (BWC). I've used their Lavender shampoo and conditioner and it's awesome. A lot of times with natural brands you don't really feel like it even washed your hair if you know what I mean. Oh, and hands down, they have THE BEST lip gloss ever! I have been looking for a couple of years and finally am super pumped about theirs. I just started using their mascara and it's just as good as Sante's. I also want to try their nail polish but haven't had a chance yet!
Use coupon code BZMFHZBG at lotusbrandsmall.com to receive 15% off any products in the mall including all the Beauty Without Cruelty and Light Mountain Natural Hair Color products.  Other Brands include: ECO-DENT Oral Care, Yakshi Naturals Roll-On Fragrances,  Sonoma Soap and more!
*The information on this site is designed for educational purposes only and has not been evaluated by the Food and Drug Administration. It is not intended to be a substitute for informed medical advice or care. You should not use this information to diagnose, treat, cure or prevent any health problems or illnesses without consulting your pediatrician or family doctor. Thank you!