Health

When beginning a healthier diet, one of the easiest foods to incorporate is oats. Since it is super quick to prepare, many people can start with this simple grain to start making positive changes to their diet immediately. Along with being super versatile, oats have also been revered for their positive benefits on blood sugar levels, cholesterol, immunity, protecting against heart disease, helping with cravings and antioxidant content. I think that is oatstanding!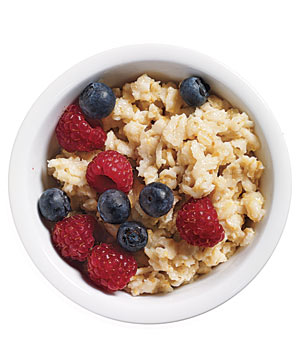 Now before you throw a box of Peaches n' Cream Quaker Oats into your shopping cart, it's important to understand the difference between all the oats available at the grocery store. Unfortunately, your conventional brands add a lot of sugar and fake ingredients to make them taste good. For example, the "peaches" in the above mentioned brand aren't even real! What I'd recommend is choosing one of the following to get the real health benefits:
Nature's Path Instant Hot Oatmeal. Basically you're looking for organic and any of these instant brands come in individual packets (great for travel too!). This is convenient for those that are used to eating a quick breakfast such as cereal.
Organic Quick Cooking Oats. These are usually in a bigger container and take about three to five minutes to prepare. I always choose organic because some oats tested contain gluten, which I recommend avoiding. Try this recipe to get started.
Bob's Red Mill Old Fashioned Oats. If you are patient and want the least processed option, go with old fashioned oats. The only downfall is that they take a lot longer to prepare. Add cinnamon, stevia, nuts or berries to jazz up the flavor.
Beyond eating oatmeal for breakfast, I like to add oats to my smoothies, grind them up for flour in baking recipes and even use them to make pancakes. Be open minded on their versatility and you'll be amazed at how easy they are to cook with. By having so many health benefits in something so simple, it couldn't be easier to move one step closer to a healthier you!
*The information on this site is designed for educational purposes only and has not been evaluated by the Food and Drug Administration. It is not intended to be a substitute for informed medical advice or care. You should not use this information to diagnose, treat, cure or prevent any health problems or illnesses without consulting your pediatrician or family doctor. Thank you!
~by Kimberly Olson
About Me