Recipes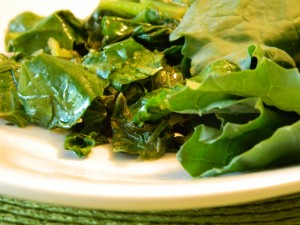 Ingredients:
3-4 bunches Kale
1 Tbsp. extra virgin olive oil
½ lemon
1 clove garlic, minced
Directions:
Drizzle olive oil on a medium pan over low heat.
Add kale and juice lemon on top.
Add garlic and saute' for 2-4 minutes.
As soon as kale wilts or becomes brown, remove from pan and serve immediately.
Nutritional Content
Servings: 2 Prep Time: 2 minutes Cook Time: 4 minutes
Nutritional Content per serving:
Calories: 94 Protein: 2g Carbs: 7g Fats: 7g Sugar: 0g Fiber: 2g
*The information on this site is designed for educational purposes only and has not been evaluated by the Food and Drug Administration. It is not intended to be a substitute for informed medical advice or care. You should not use this information to diagnose, treat, cure or prevent any health problems or illnesses without consulting your pediatrician or family doctor. Thank you!
~by Kimberly Olson
About Me