Recipes

One of my favorite things about salsa is that it's so versatile you really can make it different every single time and it's loaded with vegetables. Tomatoes feature a key nutrient called lycopene that is a strong antioxidant attributed to cellular health, heart health, fertility, bone health and is even a natural sunscreen. So eat up!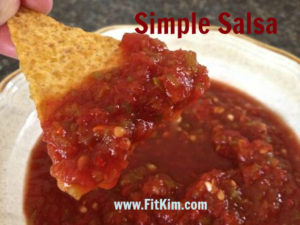 Simple Salsa
2016-02-26 04:33:15
Serves 12
Ingredients
1 28 oz. Can Stewed Tomatoes*
1-2 whole Jalapeños (canned)
1 Lime, halved
A big handful of Cilantro
1 Tsp. sea Salt
Instructions
Place all ingredients in a blender and blend for 30-60 seconds.
Notes
*I recommend organic
FitKim http://fitkim.com/
Like this post? Click here to see how you can get my 30 Day Meal Plan and four SuperFit Kitchen Cookbooks to skyrocket your results!
*The information on this site is designed for educational purposes only and has not been evaluated by the Food and Drug
Administration. It is not intended to be a substitute for informed medical advice or care. You should not use this
information to diagnose, treat, cure or prevent any health problems or illnesses without consulting your pediatrician or
family doctor.
*In addition, there are affiliate links throughout this site and I may receive a commission if you click through and make a purchase. Thank you!