Recipes

My all time favorite food during the summers are salads! The key to making them taste good and be a hit among the whole family is to trade the iceberg lettuce for some fresh greens and summer fruit. The true testament to how good this is is that you don't even need salad dressing. How's that for a salad?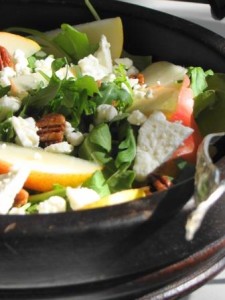 Ingredients:
8 cups mixed Greens (24 oz)
1 Lemon, halved
1 Pear, cored and cut into chunks
1/2 cup Walnuts
1/4 cup Feta, crumbled
1 small Avocado or Tomato, sliced
4 Basil leaves, chopped
1/4 cup Pumpkin Seeds (optional)
1 Tsp black Pepper
½ Tsp sea Salt
Directions:
1. Place greens in a large serving bowl and squeeze lemon over the leaves evenly. Gently toss.
2. Add pear, walnuts, feta, avocado, basil and pumpkin seeds.
3. Season with black pepper and sea salt; gently toss again.
Keep refrigerated until ready to serve.