Health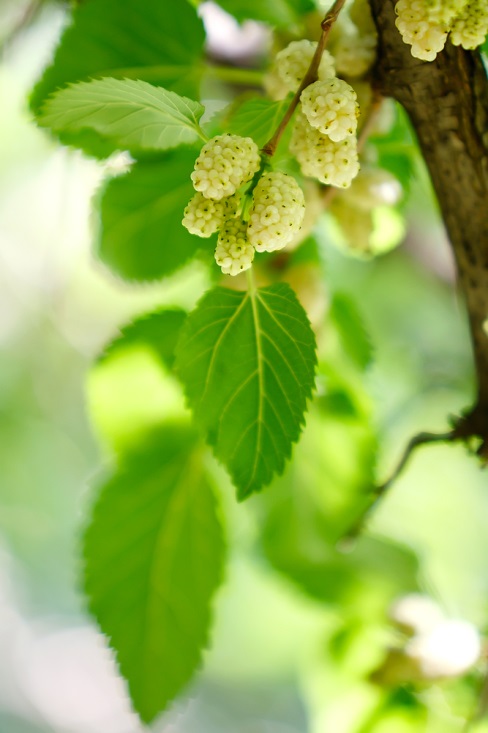 What could it be?!  It's actually a tree AND an herb that produces berries!  The White Mulberry tree was introduced from Asia into the United States during colonial times.  Starting out as a way for colonists to start silk factories, the wood of the White Mulberry tree was very flexible and durable and ended up being used in making tennis rackets, hockey sticks, furniture and boats.  In traditional Chinese medicine, the leaves and berries have also been used for centuries as a as a healing herb and is thought to help keep sugar levels stable.  The premise behind this thought is that it helps to slow the breakdown of sugars in the gut so that they are absorbed more slowly into the blood stream.* It should be noted that many of these ancient remedies and their benefits have not been scientifically verified but are traditional folk remedies that have developed in countries where White Mulberries have been eaten for hundreds of years.
As the research continues, the White Mulberry has been found to contain several properties that have been shown to provide health benefits. The best part of this incredible tree is that you can find it in supplement form or a very tasty tea form!  Make sure that you get a WHITE Mulberry supplement and remember that liquids have been shown to be more easily absorbed than capsules.  Drinking a cup or two of White Mulberry tea a day is a delicious, easy and nutritious way to help add health benefits to your diet while giving you a great tasting cup of tea to enjoy at the same time.
While studies on this new supplement are continuing, the media has already made the White Mulberry a hot commodity because it has been shown to potentially support a healthy diet and lifestyle. If you are interested in trying this new healthy supplement, I would recommend it in tea form.    Genesis Today and Pure Health are two trusted companies, known for natural and pure ingredients, and both of them have just come out with a delicious White Mulberry tea or in a supplement form.
~by Kimberly Olson
About Me

Pin It