Recipes

What I love about these breakfast quiche muffins is that they are a bit indulgent but are still low in calories and easy to make. They reheat really well so double or triple this batch to enjoy later!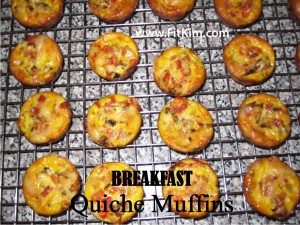 Ingredients
2 cups Spinach
¼ cup Red Pepper (can use canned), diced
¼ cup Onion, diced
6 Eggs
¼ cup Low-fat shredded Mozzarella
5 oz. low-sodium Turkey Deli Meat (optional)
3 Garlic cloves, minced
¼ Tsp. Cinnamon
Olive oil cooking spray
½ cup Salsa
Directions
Preheat the oven to 400°F.
Add all ingredients to a blender except the salsa. Blend well on low.
Lightly coat a non-stick muffin tray with olive oil spray or line with muffin cups. Evenly distribute mixture into each muffin cup, filling each about half way.
Bake for 20 minutes or until the egg is cooked all the way through (use a toothpick to make sure).
Remove from oven and cool. Top with salsa and serve.
Servings: 3  Prep Time: 8 minutes Cook Time: 20 minutes
Nutritional Content per serving:
Calories: 235 Protein: 24g Carbs: 9g Fats: 10g Sugar: 4g Fiber: 1g
~by Kimberly Olson
About Me