Health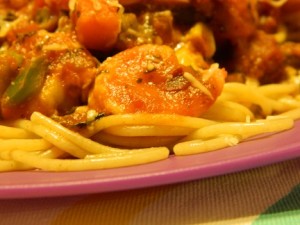 If you are going to enjoy pasta at home, here are a few things to keep in mind:
Choose only whole grain pasta; gluten free is readily available as well.
Try cooking it al dente, where it is slightly firm.  It has a lower glycemic index this way so it won't spike your blood sugar as much.
Add a ton of fresh or frozen veggies to your sauce.  This is a great way to "sneak" in the veggies!
Pair your pasta with a lean protein such as fish or chicken.
Watch your portion size with pasta-I would recommend using a measuring cup because eye balling it can be tricky:-)
And my favorite tip-think outside the box! I'm totally in love with spaghetti squash pasta and my best friend Leslie showed me recently how to make pasta with zucchini! Give it a try!
*The information on this site is designed for educational purposes only and has not been evaluated by the Food and Drug Administration. It is not intended to be a substitute for informed medical advice or care. You should not use this information to diagnose, treat, cure or prevent any health problems or illnesses without consulting your pediatrician or family doctor. Thank you!
~by Kimberly Olson
About Me