Recipes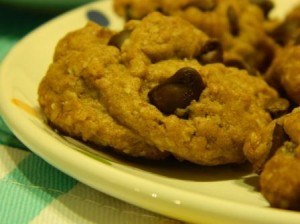 Want to indulge in a yummy treat but avoid the guilt? Try this easy and healthy chocolate chip cookie recipe!
Ingredients:
¾ cup oats, ground in a food processor
1 cup whole wheat flour
½ Tsp. baking soda
½ Tsp. sea salt
3 Tbsp. unsalted butter, melted
¼ cup extra virgin olive oil
1/3 cup raw cane sugar
1/3 cup brown sugar
1 large egg
1 Tsp. vanilla or almond extract
1 cup dark or regular chocolate chips
Directions:
1. Preheat oven to 350 degrees. Spray two baking sheets with olive oil spray.
2. In a large bowl, combine oats, flour, baking soda and salt. Set aside.
3. In a medium-sized bowl, combine butter, oil, sugars, egg, extract and chocolate chips. Add to bowl of dry ingredients and mix thoroughly.
4. Drop the dough by heaping teaspoonful's, one inch apart on the baking sheets. Use a cup of warm water to rinse measuring spoon as needed.
5. Bake each sheet separately, for about 14-15 minutes or until cookies are golden brown. Remove from oven and allow them to cool before serving. Yum!
Servings: 2 ½ dozen Prep Time: 5 minutes Cook Time: 15 minutes
Nutritional Content per serving:
Calories: 60 Protein: 1g Carbs: 8g Fats: 3g Sugar: 3g Fiber: 1g
*The information on this site is designed for educational purposes only and has not been evaluated by the Food and Drug Administration. It is not intended to be a substitute for informed medical advice or care. You should not use this information to diagnose, treat, cure or prevent any health problems or illnesses without consulting your pediatrician or family doctor. Thank you!
~by Kimberly Olson
About Me