Health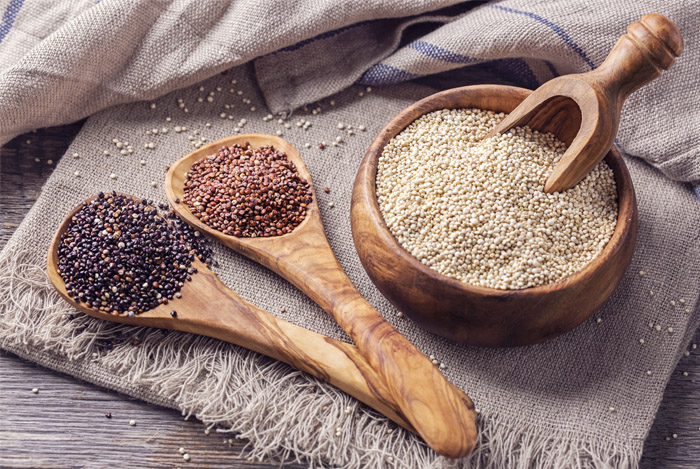 Whether or not someone is on a gluten-free diet, I find people are more and more interested in incorporating quinoa into their cooking. Although it is generally categorized as a whole grain, quinoa is actually a gluten-free super seed. It is extremely versatile and easy to prepare as you will see in the recipe below.
Before we dive into my favorite quinoa recipe, let's first take a look at its health benefits so you understand why you would want to start using more quinoa in your diet. I think my favorite thing about quinoa is that it supports overall health, weight management, and is just super easy to cook with. These are my favorite things about quinoa:
It's a Complete Protein
I know you've heard of amino acids, but there are actually nine we have to get from our food. These nine do not have to be in one meal, but quinoa naturally contains all of them. The number of people trying to eat more vegetarian or vegan meals is growing dramatically, as well as those diagnosed with gluten intolerance or Celiac Disease. With this change in diet, many of my clients come to me wondering how they could possibly still get adequate protein in their diet. To satisfy everyone, my number one go-to staple is quinoa.
Whole Grain without Gluten
According to a study published in the American Journal of Clinical Nutrition, "three or more servings of whole grain foods everyday could reduce the chances of developing metabolic syndrome – a condition marked by a combination of abdominal obesity, high blood pressure, poor blood sugar control, low HDL 'good' cholesterol and high blood fats." We see this and instantly think we need to start eating more whole-grain cereals and granola bars. This is so unnecessary. Remember, there are millions of dollars tied into the grain industry, so this message is purely marketing. You can meet your whole grain need with a gluten-free super seed, and get even better results.
Health Benefits
Not only is quinoa a complete protein, but it offers a non-dairy source of calcium. This calcium is easily absorbed by the body, allowing for an increase in bone and teeth strength. I love that! Also, it has been shown to reduce cholesterol and help improve the transport of oxygen to our cells. This is super important to all of our bodily functions. Not only does magnesium support heart health, but it impacts everything from sleep to anxiety to stress. Quinoa is loaded with magnesium, with one cup contributing to 14% of our DV. This little seed is truly a powerhouse of nutrition!
Now remember, quinoa is something you can easily incorporate into many of your recipes, but I wanted to share with you my favorite quinoa recipe. My Stuffed Red Peppers are healthy, loaded with nutrients and a crowd favorite. Give them a try and let me know what you think!
FitKim's Stuffed Red Peppers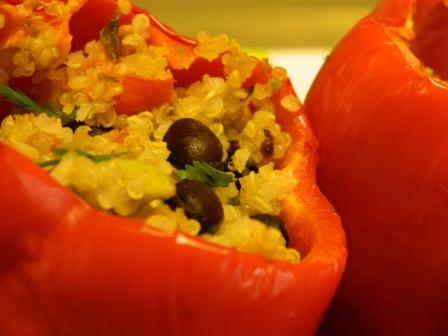 Ingredients:
½ cup Quinoa, dry
1 cup Vegetable Broth
4 Peppers (Red, Green, Yellow or Orange!)
½ cup Black Beans
1 Tomato, seeded and diced
½ small Avocado, diced
1 Jalapeno, seeded and chopped
1 Garlic clove, minced
1 stalk Green Onion, chopped
1 Tsp. Black Pepper
½ Tsp. Sea Salt
Directions:
Place quinoa and vegetable broth in a saucepan and bring to a boil. Reduce to low heat and simmer until liquid is absorbed (about 10 minutes).
Preheat oven to 400 degrees.
Cut tops of peppers similar to how you would carve a pumpkin. Use a spoon and scoop out the insides.
Combine the beans, tomato, avocado, jalapeno, garlic, green onion and quinoa in a medium sized bowl. Season with black pepper and sea salt.
Spoon mixture evenly into the red peppers. Place peppers in a greased baking dish and bake for 25 minutes.
Nutritional Content
Servings: 4 Prep Time: 5 minutes Cook Time: 35 minutes
Nutritional Content per serving:
Calories: 156 Protein: 7g Carbs: 30g Fats: 1.5g Sugar: 7g Fiber: 6g
Like this post? Click here to see how you can get my 30 Day Meal Plan and four SuperFit Kitchen Cookbooks to skyrocket your results!
*The information on this site is designed for educational purposes only and has not been evaluated by the Food and Drug Administration. It is not intended to be a substitute for informed medical advice or care. You should not use this information to diagnose, treat, cure or prevent any health problems or illnesses without consulting your pediatrician or family doctor.
*In addition, there are affiliate links throughout this site and I may receive a commission if you click through and make a purchase. Thank you!