Health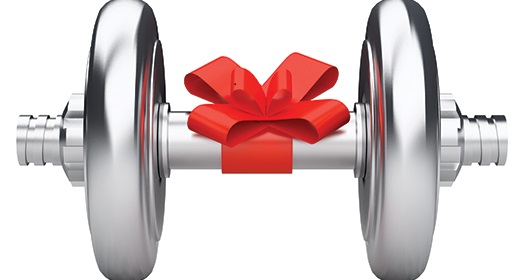 When it comes to that time of serious gift giving such as the holidays, it can often be very difficult to come up with ideas for the perfect gift. Well I say by giving the gift of health, you can't go wrong! Here are my top picks:
FitBit. This is seriously the most accurate way to determine how many calories you really burn on a daily basis. The FitBit syncs up with an online calorie management program that includes meal tracking, activity logs, meal planning and tons of recipe ideas. There are many variations out there so see what appeals to you most.
Gym Membership. One of the hardest parts of starting a regular exercise routine is taking that first step into the gym. Why not help that special someone with just the right motivation they need to get started? Most health clubs offer one month to one year, so you can tailor the gift to suit your needs. Throw in some personal training sessions for an added surprise.
Cooking Classes. For your busy mom friends who enjoy cooking but have very little time, look into various cooking classes. Many of them are focused on simple meals made easy, and also showing how to easily make extras for freezing. Another option is to choose classes specializing in different ethnicities such as Thai, Japanese and many others.
Magazine Subscription. Purchasing a fitness or health magazine subscription is the perfect gift for those situations where the budget is pretty limited. And every month the receiver will be reminded of your gift! Some of my favorites are Women's Health, Cooking Light and The Food Network. And of course you can't go wrong with a cookbook!
Bulu Box. This is a great gift for your friend that is always trying out the latest supplement or raving about the yummy protein shake she just made. Each month, a Bulu Box will arrive filled with samples of different vitamins, weight loss items and supplements. You can choose anywhere from a one-time purchase up to monthly for a year. For those that love surprises, this is the way to go.
Athletic Apparel Gift Card. If you're really undecided about what to get, a gift card is a safe bet. Buying clothes for other people can be a bit tricky so this will let them be able to try things on and settle on the perfect style for them. Lululemon, Athleta and Fabletics are all loaded with cute athletic apparel.

Blender or Juicer. Since these kitchen gadgets can be a bit pricey, this gift may be reserved for close family members or friends. Another option is to go in on it with a couple other people. Pretty much everyone can benefit from a blender but save the juicer for only those you know really want one. Check out my blender review here and juicer review here!
The holidays are a time to celebrate and be thankful for all that we have. To help your loved ones head into the new year healthier and happier, I definitely recommend giving the gift of health.
Save
Save
Like this post? Click here to see how you can get my 30 Day Meal Plan and four SuperFit Kitchen Cookbooks to skyrocket your results!
*The information on this site is designed for educational purposes only and has not been evaluated by the Food and Drug Administration. It is not intended to be a substitute for informed medical advice or care. You should not use this information to diagnose, treat, cure or prevent any health problems or illnesses without consulting your pediatrician or family doctor.
*In addition, there are affiliate links throughout this site and I may receive a commission if you click through and make a purchase. Thank you!