Recipes

Tons of dairy and traditional refried beans keep 7 layer dips heavy on digestion and high in calories and fat. For a fresh take on a favorite, this lightened-up recipe still curbs cravings but with much less fat and far more nutrients. Everyone will love it!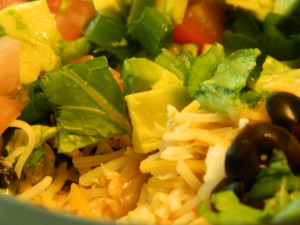 Ingredients
3 cups Romaine Lettuce, finely chopped
2 medium/large Avocados, mashed well
1 Lemon
1/2 Tsp. Sea Salt
1-1/2 cups nonfat plain Greek Yogurt
1 can of organic fat free Refried Black Beans
1 packet of low sodium Taco Seasoning OR Homemade Taco Seasoning (1 Tsp. each of: chili, garlic, onion powder, red pepper, oregano, paprika, cumin, sea salt, black pepper)
3 medium/large Tomatoes (diced)
1 cup shredded low-fat Cheddar Cheese
1/2 cup sliced Black Olives
1/4 cup chopped Cilantro
Directions
In a small bowl, mix together 8oz of Greek yogurt and one pack of natural taco seasoning (or your own mix).
In another small bowl, mash two ripe avocados. Squeeze in the juice from a lemon and a dash of salt. Taste and add more if needed.
Spread organic black refried beans into the bottom of a large shallow dish.
Add chopped romaine lettuce on top of the beans.
Spoon the Greek yogurt mixture on top of the lettuce and smooth out with a spoon if necessary.
Add the avocado layer on top of the yogurt and smooth layer.
Place the diced tomatoes on top of the avocado layer.
Sprinkle the cheese on top of the tomatoes.
Add black olives and cilantro as a garnish on the top and enjoy!
Note: Serve chilled with baked corn tortilla chips or sliced veggies.
*The information on this site is designed for educational purposes only and has not been evaluated by the Food and Drug Administration. It is not intended to be a substitute for informed medical advice or care. You should not use this information to diagnose, treat, cure or prevent any health problems or illnesses without consulting your pediatrician or family doctor. Thank you!
~by Kimberly Olson
About Me