Recipes

I love that these no bakes have sweetness from ingredients other than sugar, are gluten free and vegan too! You can cook the oats in advance if you want them even chewier.
Ingredients: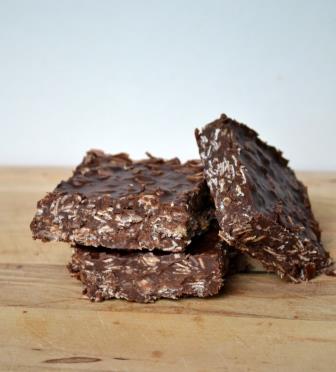 1/3 cup Agave Nectar
1/3 cup unsweetened Cocoa Powder
1/4 cup Almond Milk
1/4 cup Coconut Oil
1/4 cup Almond Butter
2 cups quick cooking GF Oats
1/3 cup shredded Coconut
1/2 Tsp. Vanilla extract
¼ Tsp. Salt
Directions:
Combine the agave and cocoa in a saucepan over medium heat and stir until combined. Add in the milk and oil, bring to a boil for one minute. Remove from heat.
Stir in the other ingredients and combine thoroughly.
Add dough to a medium-sized glass dish or other serving container and press to flatten no bakes evenly.
Place in the fridge for about 30 minutes and then cut into squares.
Servings: 16  Prep Time: 5 minutes Cook Time: 5 minutes
Nutritional Content per serving:
Calories: 128 Protein: 3g Carbs: 13g Fats: 7g Sugar: 6g Fiber: 2g
Like this recipe? Try my No Bake Protein Bars!

~by Kimberly Olson
About Me