Baby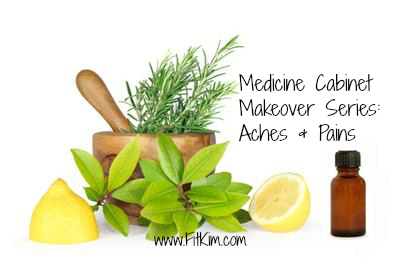 This is the final section of my three part Medicine Cabinet Makeover series so if you haven't already, please check out Part 1: Cold & Flu as well as Part 2: Sleep, Anxiety & Allergies. Enjoy!
For headaches:
Lavender oil-apply externally to the temple area and this is best for the onset of a migraine or a mild headache.
Peppermint oil-I use this if the headache is more aggressive (side note: I read somewhere that it's 100 times stronger than Tylenol!).
Chia seeds-these are high in Omega 3's which naturally reduces inflammation and that's often the cause of headaches/migraines in the first place. Flax or hemp work as well.
Buckwheat-this gluten free grain contains a specific flavonoid that can act as antioxidant, which lowers inflammation.
Menstrual problems:
Chasteberry (vitex)-this herb has been studied for its ability to help with symptoms such as

mood swings and depression, headaches and migraines, acne or sore breasts.

Magnesium-this is specifically helpful in relieving cramping.
Ashwagandha and holy basil-these two adaptogenic herbs have been shown to reduce cortisol levels, balance hormones, and reduce PMS symptoms.
Soreness or aches & pains:
Muscle cream-my favorite is peaceful mountain products which are homeopathic remedies or just rubbing peppermint oil into the area topically.
Epsom salts in warm water-it contains magnesium sulfate, which is a natural muscle relaxant and the salt reduces swelling.
Tart cherry juice-this is a super antioxidant and reduces inflammation. A study in the British Journal of Home Medicine showed tart cherry juice reduced soreness compared to a placebo group.
Black strap molasses-contains a high amount of magnesium which naturally relaxes muscles; here's a DIY recipe.
As an antiseptic:
Witch hazel-soak a cloth in it and apply directly over the wound; this helps to stop bleeding too or try Dickinson's pads.
Tea tree oil-it is everything you'd want in one! (antimicrobial/antiviral/antibacterial)
Coconut oil-it's also antiviral/antibacterial + just simply amazing.
And last, here's some great info on why I recommend everyone takes a daily probiotic to naturally build up your defenses year round!
Like this post? Click here to see how you can get my 30 Day Meal Plan and four SuperFit Kitchen Cookbooks to skyrocket your results!
*The information on this site is designed for educational purposes only and has not been evaluated by the Food and Drug Administration. It is not intended to be a substitute for informed medical advice or care. You should not use this information to diagnose, treat, cure or prevent any health problems or illnesses without consulting your pediatrician or family doctor.
*In addition, there are affiliate links throughout this site and I may receive a commission if you click through and make a purchase. Thank you!