Recipes

I created this recipe when I lived in Michigan because I was looking for a way to use the delicious cherries when in season. One of the richest sources of melatonin (an important hormone that regulates sleep/wake cycles) is the Montmorency cherry, found mostly in Michigan and Wisconsin. Pretty cool!
Ingredients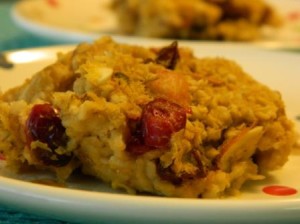 • 1 ½ cups old-fashioned Oats
• 2 cups Almond or Coconut Milk
• ¼ cup Almonds or Walnuts, chopped
• ¼ cup Dried unsweetened Cherries (can use Raisins or Cranberries)
• ¼ cup chunky Cinnamon Applesauce (can use ½ a Banana instead)
• 2 Tsp. Coconut Sugar
• ¼ Tsp. Almond Extract
Directions
1. Preheat oven to 400 degrees and grease glass baking dish.
2. Combine all ingredients in a bowl and pour evenly into dish.
3. Bake uncovered for 30-35 minutes and cut into squares.
Servings: 4 Prep Time: 10 minutes Cook Time: 30-35 minutes
Nutritional Content per serving:
Calories: 208 Protein: 5g Carbs: 35g Fats: 6g Sugar: 11g Fiber: 5g
*The information on this site is designed for educational purposes only and has not been evaluated by the Food and Drug Administration. It is not intended to be a substitute for informed medical advice or care. You should not use this information to diagnose, treat, cure or prevent any health problems or illnesses without consulting your pediatrician or family doctor. Thank you!
~by Kimberly Olson
About Me