Recipes

You have to admit, granola bars are one of the easiest meal replacement options out there, but most of the ones found at the grocery store are loaded with excess sugar and unnecessary ingredients. With as little as five ingredients and no baking involved, these Healthy Homemade Granola Bars couldn't be easier!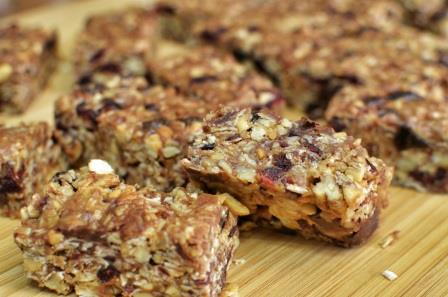 Ingredients
1 cup Dates, pitted
1 ½ cups rolled Oats
1 cup Almonds, roughly chopped
¼ cup Almond Butter
¼ cup Honey (can sub with Yacon, Maple Syrup or Agave)
Note: Be your own chef and add dried fruit, nuts, chocolate chips, chia seeds, etc.
Directions
Put dates in a food processor until broken up into small parts (can hand chop if needed).
Place dates, almonds and oats in a small bowl.
Warm almond butter and honey in a saucepan and melt over low heat.
Pour mixture over oats, dates and almonds and stir together, mixing thoroughly.
Transfer to a small dish lined with parchment paper and press to evenly flatten.
Cover and chill in fridge for at least 15 minutes. Cut into 10 bars and store in either the fridge for a few days or the freezer for even longer.
Servings: 10 Prep Time: 10 minutes Cook Time: 2-4 minutes
Nutritional Content per serving:
Calories: 226 Protein: 5g Carbs: 31g Fats: 10g Sugar: 18g Fiber: 3g
*The information on this site is designed for educational purposes only and has not been evaluated by the Food and Drug Administration. It is not intended to be a substitute for informed medical advice or care. You should not use this information to diagnose, treat, cure or prevent any health problems or illnesses without consulting your pediatrician or family doctor. Thank you!
~by Kimberly Olson
About Me