Recipes

By adding in the goji juice, you'll be able to turn this family favorite into a sweet superfood treat!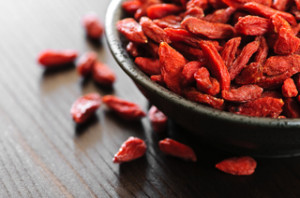 Ingredients
1/2 cup rolled Oats (gluten free)
1/2 cup Applesauce (can use mashed banana)
1/4 cup roasted Cashew Butter (can use another nut butter)
1/2 Tsp. pure Vanilla Extract
½ Tbsp. Goji100
1/16 Tsp. Sea Salt
1-2 Tbsp. mini Chocolate Chips or Chunks
2 1/2 Tbsp. Goji Berries (can use 1 Tbsp. dried fruit or more chocolate chips)
1 Tbsp Coconut Palm Sugar (can add more if needed)
Directions
1. Preheat the oven to 350 degrees.
2. Mash the applesauce or banana with the nut butter, then add all other ingredients and mix until well combined.
3. Shape into cookies (I used a 1 tablespoon measurer and dipped in warm water as needed) and bake on a greased cookie sheet for around 14-16 minutes. Let cool 10 minutes before removing from sheet.
Nutritional Content
Servings: 18 Prep Time: 5 minutes Cook Time: 25 minutes
Nutritional Content per serving:
Calories: 40 Protein: 1g Carbs: 6g Fats: 2g Sugar: 2g Fiber: 1g
*The information on this site is designed for educational purposes only and has not been evaluated by the Food and Drug Administration. It is not intended to be a substitute for informed medical advice or care. You should not use this information to diagnose, treat, cure or prevent any health problems or illnesses without consulting your pediatrician or family doctor. Thank you!
~by Kimberly Olson
About Me