Recipes

A refreshing summer drink can be a tropical delight by incoporating fresh mint, strawberries and the exotic mangosteen superfood. This low-cal cocktail is light on the hips but still super tasty!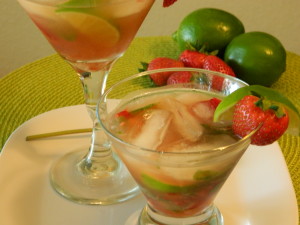 Ingredients:
10 Mint leaves
3 Strawberries, stems removed and halved
½ Lime, cut into quarters
1 oz Mangosteen100 (Genesis Today)
1 cup Ice
1 ½ oz Coconut Rum
½ cup Coconut Water
Splash of Club Soda (optional)
Directions:
1. Place mint leaves, strawberries (save one slice for garnish), 3 lime wedges and the mangosteen into a tall glass. Use a muddler or the end of a wooden spoon to crush the lime and strawberries. Do not strain.
2. Add in the ice, rum, coconut water and top with the club soda.
3. Stir, taste and add in more mangosteen to make it sweeter or more club soda to reduce the sweetness.
4. Garnish with remaining lime wedge and strawberry slice.
Note: Omit rum for a non-alcoholic option
Nutritional Content
Servings: 1 Prep Time: 8 minutes Cook Time: 0 minutes
Nutritional Content per serving:
Calories: 138 Protein: 0g Carbs: 25g Fats: 0g Sugar: 19g Fiber: 1g
*The information on this site is designed for educational purposes only and has not been evaluated by the Food and Drug Administration. It is not intended to be a substitute for informed medical advice or care. You should not use this information to diagnose, treat, cure or prevent any health problems or illnesses without consulting your pediatrician or family doctor. Thank you!
~by Kimberly Olson
About Me