Recipes

Baked mushroom caps are delicious stuffed with a summery sauce of roasted red peppers. The sauce is a zesty embellishment for grilled meats, too.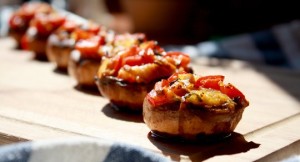 Ingredients
• 3 medium red bell peppers
• 2 plum tomatoes, halved lengthwise
• 1/2 cup (1/2-inch) cubed French bread baguette, crusts removed – I used GF bread
• 1 1/2 tablespoons smoked almonds
• 1 tablespoon extra virgin olive oil
• 1 tablespoon sherry vinegar or red wine vinegar
• 1/4 teaspoon Spanish smoked paprika
• 1/4 teaspoon sea salt
• 1/8 teaspoon ground red pepper
• 1 large garlic clove
• 12-24 mushroom caps
Directions
1. Preheat broiler
2. To prepare sauce, cut bell peppers in half lengthwise; discard seeds and membranes. Place bell pepper halves and tomatoes, skin sides up, on a foil-lined baking sheet; flatten bell peppers with hand. Broil 10 minutes or until blackened. Place in a zip-top plastic bag; seal. Let stand 15 minutes. Peel and coarsely chop, reserving any liquid.
3. Combine bell peppers, reserved liquid, tomatoes, and next 8 ingredients (through garlic) in a blender or food processor; process until smooth.
4. Preheat oven to 400°.
5. To prepare mushroom caps, clean thoroughly and pat dry. Then lightly coat with virgin olive oil cooking spray. Bake at 400° for 10 minutes or until hot all the way through.
Put sauce in caps, and serve. You can also take raw mushroom caps and serve the sauce on the side.
~by Kimberly Olson
About Me