Recipes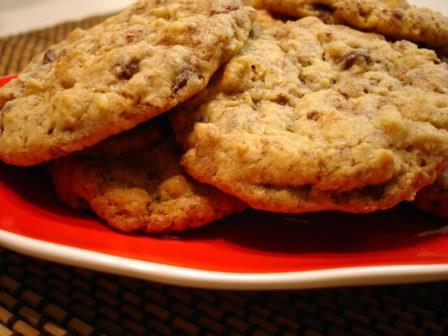 Ingredients
1 cup Whole Wheat Flour (or Amaranth Flour to make Gluten Free)
2 cups Oat Flour (grind 2 ¼ cups oats in a food processor)
¾ Tsp. Sea Salt
½ Tsp. Baking Powder
½ Tsp. Baking Soda
1 Tsp. Cinnamon
½ Tsp. Nutmeg
½ Tsp. Ginger
¼ Tsp. ground Cloves
½ cup unsalted Butter, at room temperature
1 cup Unsweetened Applesauce
½ cup Brown Sugar or Coconut Sugar
½ Cup Coconut or Cane Sugar
3 Tbsp. Lucuma (if you don't have this superfood, you can use ¼ cup more sugar instead)
1 Egg
2 Tsp. Vanilla Extract
1 Cup Pumpkin
1-1 ½ cups dark chocolate chips
Directions
Preheat oven to 350°F. Line two baking sheets with parchment paper.
In a large bowl, combine dry ingredients (first nine ingredients listed).
In another bowl, cream the butter, applesauce and sugars together until fluffy.
Add the egg, vanilla and pumpkin; mix together for a few minutes.
Slowly stir the wet ingredients into the dry ingredients and mix until blended.
Fold in the chocolate chips and mix gently.
Drop large rounded tablespoons onto cookie sheet. Dip spoon into a warm glass of water if dough sticks to spoon.
Bake for about 12 minutes or until golden brown. Let cool for a couple of minutes.
Servings: 36-48 Prep Time: 10 minutes Cook Time: 12 minutes
Nutritional Content per serving:
Calories: 85 Protein: 1g Carbs: 14g Fats: 3g Sugar: 43g Fiber: 1g
~by Kimberly Olson
About Me

Pin It