Fitness

When choosing what you'll wear to work out in, you wouldn't think that picking out a sports bra would be such a big deal. But for those that actively work out, you know what I'm talking about. It's interesting too when you go through any kind of change such as weight loss or weight gain, or even getting pregnant, then nursing…and then not anymore. Let's just say things can change quite a bit in that area!
Well I'm excited to share that I have finally found the perfect sports bra. I literally have a graveyard sports bra drawer and I am pumped to clean it out. The sports bras I've switched to are called Shefit and they are awesome because you can adjust how snug you want them to fit you in a couple of different ways. The reason why this is so important is because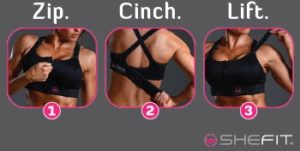 traditional sports bra "smoosh" the girls in and this cuts off blood flow to this area. As an important part of breast health, you definitely do not want to be doing this for even an hour, much less most of the day when you find yourself in your workout clothes long after you left the gym.
So check it out-here's a link to where you can get them and use promo code FitKim10 to get a discount and free shipping. They also have workout tops and bottoms too that look really great. Let me know what you think!
Like this post? Check out my 21 Days 2 a New You Program and see how you can get my book for free!
*The information on this site is designed for educational purposes only and has not been evaluated by the Food and Drug
Administration. It is not intended to be a substitute for informed medical advice or care. You should not use this
information to diagnose, treat, cure or prevent any health problems or illnesses without consulting your pediatrician or
family doctor.
*In addition, there are affiliate links throughout this site and I may receive a commission if you click through and make a purchase. Thank you!