Recipes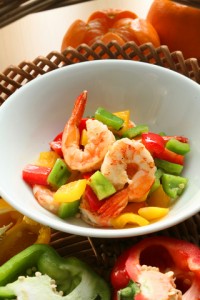 Ingredients:
½" ginger root, peeled
1 clove garlic
1 cup couscous
1 Tbsp. sesame oil or coconut oil
1 Tbsp. red pepper flakes
2 Tbsp. soy sauce (reduced sodium)
2 cups mixed frozen veggies (ie: Asian Medley)
½ cup frozen edamame
½ pound uncooked shrimp (peeled and deveined)
2 Tbsp. lime juice
½ Tsp. sea salt
1 Tsp. black pepper
Directions:
1. Dice ginger and garlic; set aside.
2. Prepare couscous according to package directions; set aside 1 cup.
3. Preheat pan with oil on medium heat; add red pepper flakes, soy sauce, garlic and ginger.
4. Steam frozen veggies and edamame.
5. Place shrimp in pan with ginger and garlic mixture. Season shrimp with lime juice, sea salt and black pepper.
6. Sauté shrimp for four minutes. Add steamed veggies and cook for two minutes.
7. Serve over hot couscous.
Servings: 2 Prep Time: 5 minutes Cook Time: 8 minutes
Nutritional Content per serving:
Calories: 362 Protein: 26g Carbs: 42g Fats: 7g Sugar: 5g Fiber: 9g
*The information on this site is designed for educational purposes only and has not been evaluated by the Food and Drug Administration. It is not intended to be a substitute for informed medical advice or care. You should not use this information to diagnose, treat, cure or prevent any health problems or illnesses without consulting your pediatrician or family doctor. Thank you!
~by Kimberly Olson
About Me