Health

In regards to fruits and vegetables, should I really be using the word dirty as a descriptor? I believe the answer is a strong yes. I know it's not realistic for everybody to only eat organic all of the time, so I am going to share with you the top twelve fruits and vegetables to avoid, as well as the ones to go after. You may be thinking I am crazy for recommending you avoid eating any fruit or vegetable. While it's true I would rather you eat any fruit or vegetable over processed garbage, I know how savvy consumers are becoming. We want to make educated decisions about where our food comes from, how it is harvested and what impact it will have on our health.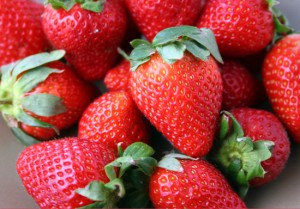 Over the last several decades, the toxic load of our fruits and vegetables has sky-rocketed. Back in the day, farmers only new of organic methods, and now we have pesticides, herbicides, fungicides, larvicides, chemicals and even crops that have these harmful substances inserted into them as DNA! If you really think about it, this is absolutely crazy. But instead of throwing our hands in the air, here is a list of The Dirty Dozen and The Clean Twelve. Go for organic options on the first 12, and don't worry so much about that with the second 12.
12 Most Contaminated
Peaches
Apples
Sweet Bell Peppers
Celery
Nectarines
Strawberries
Cherries
Pears
Grapes (imported)
Spinach
Lettuce
Potatoes
12 Least Contaminated
Onions
Avocado
Sweet Corn (frozen)
Pineapples
Mango
Asparagus
Sweet Peas (frozen)
Kiwi
Bananas
Cabbage
Broccoli
Papaya
Source: Environmental Working Group, www.ewg.org and Food News, www.foodnews.org
More Information
For easy reference, download a copy of the wallet guide!
This gives you a safe and easy way to incorporate healthier decisions into your life. Just like Noah didn't build the arc overnight, we can't expect that for our health either. But by taking one step at a time, you are well on your way to rebuilding your body from the inside out.
*The information on this site is designed for educational purposes only and has not been evaluated by the Food and Drug Administration. It is not intended to be a substitute for informed medical advice or care. You should not use this information to diagnose, treat, cure or prevent any health problems or illnesses without consulting your pediatrician or family doctor. Thank you!
~by Kimberly Olson
About Me