Fitness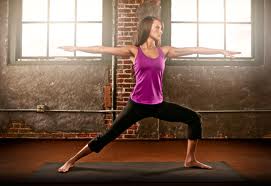 I like to read celebrity interviews about women who are great examples of combining a fit body with femininity. Two of my favorites are Jennifer Aniston and Giada De Laurentiis and these two ladies swear by Yoga for maintaining a healthy weight among other things. When looking more into it, research is showing that there is a link: Yoga stimulates the production of adiponectin, which is the weight loss hormone often low in overweight individuals. One study published in the Journal of Alternative and Complementary Medicine found that the Yoga participants experienced a significant reduction in weight, body mass index, systolic blood pressure and an increase in adiponectin. The University of Arizona found these five habits to create long-term success:
Frequency of practice
Longer intervention duration
Yogic dietary component
Residential component
Comprehensive inclusion of home-practice component
Here is one of my most popular Yoga workouts or you can check out one of my favorite Yoga YouTube channels to get started!
Like this post? Click here to see how you can get my 30 Day Meal Plan and four SuperFit Kitchen Cookbooks to skyrocket your results!
*The information on this site is designed for educational purposes only and has not been evaluated by the Food and Drug Administration. It is not intended to be a substitute for informed medical advice or care. You should not use this information to diagnose, treat, cure or prevent any health problems or illnesses without consulting your pediatrician or family doctor.
*In addition, there are affiliate links throughout this site and I may receive a commission if you click through and make a purchase. Thank you!