Recipes

Do you love Mexican food but don't want the extra calories? Try this lighter version and see how tasty it is!
Ingredients: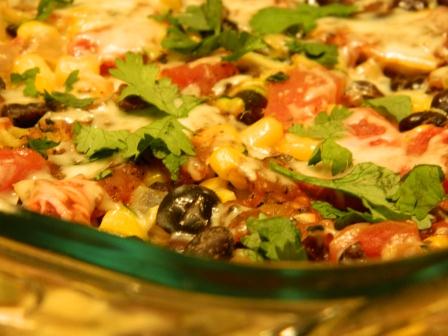 1 Tbsp. extra virgin olive oil
½ onion, diced
1 zucchini, grated
1 15 oz. can black beans, drained and rinsed
1 ½ cups frozen corn, thawed
1 can diced or stewed tomatoes, drained
¼ cup black olives, sliced
2 Tsp. hot sauce
1 cup salsa
1 Tsp. cumin
1 Tsp. black pepper
½ Tsp. sea salt
EVOO spray
12 corn tortillas, torn into pieces
Handful of cilantro, torn
½ cup shredded mozzarella
Directions:
1. Preheat oven to 375 degrees.
2. Add extra virgin olive oil to a large pan over medium heat. Saute' onions for four minutes. Add zucchini, black beans, corn, tomatoes, olives, hot sauce, salsa and season with cumin, pepper and sea salt.
3. Cook for an additional 4-5 minutes.
4. Spray a 9×13 baking dish with EVOO spray. Place ½ of tortillas at the bottom of dish. Layer ½ of pan mixture and cheese on top. Repeat this step to use the remaining tortillas, pan mixture and cheese.
5. Cover dish with aluminum foil. Baked for 15 minutes, remove foil and bake for an additional 10 minutes. Top with cilantro.
Servings:9 Prep Time: 5 minutes Cook Time: 35 minutes
Nutritional Content per serving:
Calories: 115 Protein: 5g Carbs: 17g Fats: 4g Sugar: 6g Fiber: 2g
*The information on this site is designed for educational purposes only and has not been evaluated by the Food and Drug Administration. It is not intended to be a substitute for informed medical advice or care. You should not use this information to diagnose, treat, cure or prevent any health problems or illnesses without consulting your pediatrician or family doctor. Thank you!
~by Kimberly Olson
About Me