Recipes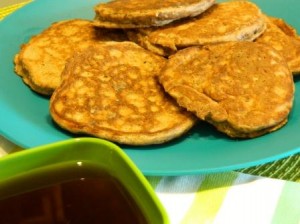 Ingredients:
6 egg whites, combined (or ¾ cups liquid egg whites)
½ cup low-fat cottage cheese
1 scoop whey protein, chocolate or vanilla
½ cup quick-cooking oats
¼ cup wheat germ or hemp seed
1/4 cup flax seed
1 Tsp. baking powder
1 Tbsp. extra virgin olive oil
½ Tsp. cinnamon
Extra Virgin Olive Oil spray
Directions:
1. Place all ingredients (except egg whites) in a food processor or blender and blend thoroughly. Place in a medium-sized bowl.
2. Add egg whites to mixture and mix until blended.
3. Spray a muffin tin with olive oil spray and fill each about 2/3rd's full.
4. Heat a large pan over medium heat. Spray with olive oil and add pancake mixture immediately. Cook each side for 2-3 minutes or until golden brown.
5. Serve with mixed berries or maple syrup (optional).
Nutritional Content
Servings: 6 Prep Time: 4 minutes Cook Time: 6 minutes
Nutritional Content per serving:
Calories: 212 Protein: 16g Carbs: 18g Fats: 8g Sugar: 0g Fiber: 4g
*The information on this site is designed for educational purposes only and has not been evaluated by the Food and Drug Administration. It is not intended to be a substitute for informed medical advice or care. You should not use this information to diagnose, treat, cure or prevent any health problems or illnesses without consulting your pediatrician or family doctor. Thank you!
~by Kimberly Olson
About Me