Recipes

When it comes to muffins, you can't really beat this amazing combo of using the superfood pumpkin and gluten free grains. Did you know that pumpkin offers one of the best sources of carotenoids, an antioxidant that can be helpful in keeping us healthy? Pretty cool!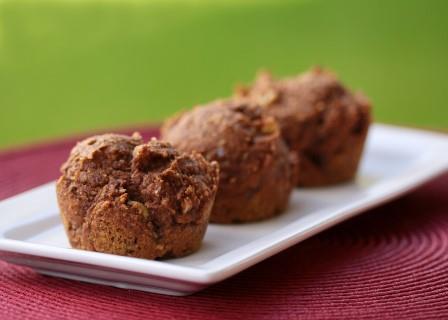 Ingredients
• 1 cup 100% pure canned Pumpkin or fresh
• 2 eggs
• ¼ cup Milk (I recommend non-dairy)
• 1/3 cup Coconut Oil
• ½ cup Maple or Yacon Syrup (reduce quantity if using agave)
• ¼ cup Walnuts or Pecans, chopped (optional)
• 1 Tsp. pure Vanilla
• 1 Tsp. Baking Soda
• ½ Tsp. Sea Salt
• ½ Tsp. ground Cinnamon
• ½ Tsp. ground Ginger
• ¼ Tsp. ground Nutmeg
• ¼ Tsp. ground Cloves or Allspice
• 2 cups Gluten Free Flour (I used Bona Dea's All Purpose flour or you can just grind up some oats)
Note: make sure the eggs, milk and oil are at room temperature so they blend nicely
Directions:
1. Preheat oven to 325 degrees. Lightly coat a non-stick muffin tray with olive oil spray or line with muffin cups.
2. In a large bowl, mix the pumpkin, eggs, milk, oil, and syrup until blended.
3. Stir in the walnuts, vanilla, baking soda, salt, and spices.
4. Add in the flour and mix until thoroughly combined.
5. Evenly distribute mixture into each muffin cup, filling each about ¾ full.
6. Bake for about 25 minutes. Insert a toothpick into the center and it should come out clean.
7. Let them cool for 10 minutes before serving. You can add a little butter if you want.
Servings: 12 Prep Time: 5 minutes Cook Time: 25 minutes
Nutritional Content per serving:
Calories: 166 Protein: 4g Carbs: 14g Fats: 8g Sugar: 1g Fiber: 3g
If you like this recipe, try my:
Gluten Free Pumpkin Bread
Pumpkin Smoothie Delight
Pumpkin Chocolate Chip Cookies
*The information on this site is designed for educational purposes only and has not been evaluated by the Food and Drug Administration. It is not intended to be a substitute for informed medical advice or care. You should not use this information to diagnose, treat, cure or prevent any health problems or illnesses without consulting your pediatrician or family doctor. Thank you!
~by Kimberly Olson
About Me