Recipes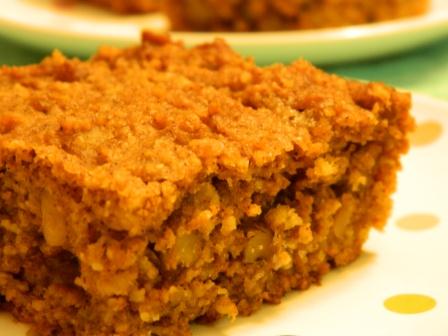 Ingredients:
extra virgin olive oil spray
½ cup chopped walnuts or pecans
1 ¾ cups of organic rolled oats, ground in a food processor (makes 1 ½ cups)
1 Tsp. baking powder
2 Tsp. ground cinnamon
½ Tsp. baking soda
½ Tsp. sea salt
½ Tsp. ground ginger
¼ Tsp. ground cloves
1 egg
2/3 cup dark brown sugar, sucanat or agave nectar (reduce quantity if using agave)
¾ cup plain Greek yogurt
¾ cup 100% pure canned pumpkin
3 Tbsp. coconut oil
1 ½ Tsp. pure vanilla
Directions:
Preheat oven to 350 degrees. Spray the bottom of a small loaf pan or 8 x 8 pan.
Toast walnuts or pecans in oven for 5-7 minutes.
In a large bowl, mix the oats, baking powder, cinnamon, baking soda, salt, ginger, and cloves.
In a medium bowl, mix the egg, sugar, yogurt, pumpkin, oil and vanilla until blended. Add to the large bowl and mix everything together until just blended. Stir in the walnuts too.
Pour batter into pan and bake for 50-60 minutes. Insert a toothpick into the center and it should come out clean.
Let it cool for 10 minutes before serving. Cut into 16 squares or slices.
Nutritional Content
Servings: 16 Prep Time: 5 minutes Cook Time: 60 minutes
Nutritional Content per serving:
Calories: 123 Protein: 4g Carbs: 15g Fats: 6g Sugar: 8g Fiber: 2g
*The information on this site is designed for educational purposes only and has not been evaluated by the Food and Drug Administration. It is not intended to be a substitute for informed medical advice or care. You should not use this information to diagnose, treat, cure or prevent any health problems or illnesses without consulting your pediatrician or family doctor. Thank you!
~by Kimberly Olson
About Me