Recipes

This fresh spinach salad is topped with tasty blackberries and grilled chicken. Local ingredients add a unique twist to surprise the taste buds!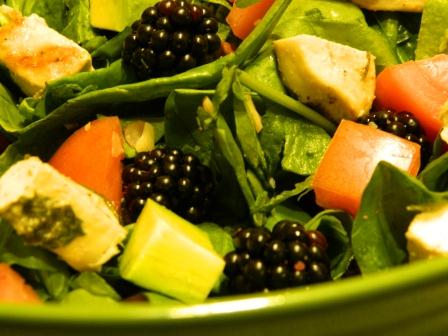 Ingredients:
2 chicken breasts,1/2″ strips
1 tbsp extra virgin olive oil
1 lemon
1 tsp black pepper
1/2 tsp sea salt
1 sprig rosemary
4 leaves basil (fresh)
10 oz spinach leaves
2 tomatoes, chopped
1 cup blackberries
½ avocado, diced
1/4 cup slivered almonds, toasted
1 tbsp coconut oil
Directions:
Slice thawed chicken breasts into 1/2″ strips and place in a bowl. Top with olive oil, the juice of 1/2 a lemon, black pepper, sea salt, rosemary and basil. Marinate in the refrigerator for at least one hour or overnight.
Place spinach leaves in a large salad bowl and squeeze remaining lemon juice over the leaves. Add chopped tomatoes, blackberries, avocado and slivered almonds to the salad greens. Toss gently.
Heat pan on medium heat for 1 minute. Pour coconut oil in pan and then place the chicken strips in the pan. Grill each side 3-4 minutes or until cooked thoroughly.
Place grilled chicken strips over the spinach salad and serve. Enjoy!
Tip
Marinate the chicken breast strips with the next 6 ingredients for 1 hour in the fridge or overnight.
Servings: 8 Prep Time: 1 hour Cook Time: 8 minutes
Nutritional Content per serving:
Calories: 113 Protein: 8g Carbs: 6g Fats: 7g Sugar: 2g Fiber: 3g
*The information on this site is designed for educational purposes only and has not been evaluated by the Food and Drug Administration. It is not intended to be a substitute for informed medical advice or care. You should not use this information to diagnose, treat, cure or prevent any health problems or illnesses without consulting your pediatrician or family doctor. Thank you!
~by Kimberly Olson
About Me