Baby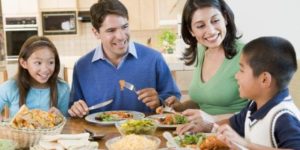 With our fast-paced society and activity -filled family calendars, it is very rare for families to have dinner around the table together anymore. I've even read crazy stories where something is heated up in the microwave and the kids are sent off to eat it in front of the television. For the last few decades, we've seen less and less family time together, and I believe it is linked to our decline in health as well.
When you make it a custom to have dinner as a family at least a few nights a week, you can greatly impact not only what your family is eating, you can also shift their view of food. Instead of eating something just to satisfy a sweet or salty craving, inhaling it within minutes, you can create the impression that food is to be enjoyed and savored. When you take the time to prepare an actual meal, there is a natural anticipation of what mom (or dad) is cooking tonight for dinner. Instead of digging through the pantry or freezer for a packaged meal, this can drastically change the experience, as well as nutrition, for everyone involved.
If you think this is far off, give it a try for a couple of weeks. Even if you just do it a couple of times per week, pay attention to how you feel doing something healthy for your family. Also notice the connection, the conversation and the communication that may not have been there before. It will be well worth your efforts and before you know it, your whole family will be looking forward to the next meal together!
Like this post? Check out my 21 Days 2 a New You Program and see how you can get my book for free!
*The information on this site is designed for educational purposes only and has not been evaluated by the Food and Drug
Administration. It is not intended to be a substitute for informed medical advice or care. You should not use this
information to diagnose, treat, cure or prevent any health problems or illnesses without consulting your pediatrician or
family doctor.
*In addition, there are affiliate links throughout this site and I may receive a commission if you click through and make a purchase. Thank you!