Baby

Would you believe that these simple and amazingly healthy popsicles are dairy free?! I just recently discovered coconut yogurt and my world has been forever changed:). To keep it even simpler, you can just throw extra smoothie into popsicle molds, let them freeze for 4+ hours and you're good to go!
The reason I like these popsicle molds is because they travel well and can be a great healthy treat while out with the kiddos!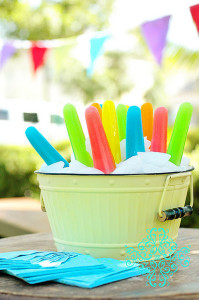 Ingredients:
3/4 cup Milk (I make my own)
3/4 cup Yogurt (to be dairy free, try coconut yogurt)
1 Banana
1 cup frozen or fresh Fruit (I love mixed berries)
Directions:
1. Blend all ingredients.
2. Pour them into up to six popsicle molds and drink the leftovers.
3. Freeze for at least 4 hours. Pack with ice if traveling and they will stay frozen!
Serves 6
*The information on this site is designed for educational purposes only and has not been evaluated by the Food and Drug Administration. It is not intended to be a substitute for informed medical advice or care. You should not use this information to diagnose, treat, cure or prevent any health problems or illnesses without consulting your pediatrician or family doctor. Thank you!
~by Kimberly Olson
About Me