Fitness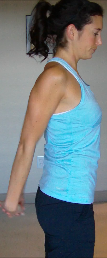 I recently did a post on How to Know Exactly what Muscles You're Stretching and shared some amazing visuals from David Wolfe's site. I always get such a great response to these types of posts so I wanted to add to it and pass along a few other tips.
As we age, we feel more stiff when we get up from sitting too long and not quite as flexible when we try to reach for our toes. This isn't something that has to happen as quickly as most of us are used to. The reason why this happens is because we've become so much more sedentary than we were even 20 years ago. Some experts say that the average American watches four hours of TV daily which equates to 13 years of watching television over a lifetime!
A couple of important times to stretch are after workouts (you can do dynamic stretching before a workout to warm up), if you have a desk job then every few hours, and at least once a week incorporate some type of Yoga into your fitness program to really reap the benefits.
What's most important to remember is that stretching can help you recover from your workouts faster, prevent injury, boost flexibility and even relieve stress. Check out the videos below to get you started!
Like this post? Click here to see how you can get my 30 Day Meal Plan and four SuperFit Kitchen Cookbooks to skyrocket your results!
*The information on this site is designed for educational purposes only and has not been evaluated by the Food and Drug Administration. It is not intended to be a substitute for informed medical advice or care. You should not use this information to diagnose, treat, cure or prevent any health problems or illnesses without consulting your pediatrician or family doctor.
*In addition, there are affiliate links throughout this site and I may receive a commission if you click through and make a purchase. Thank you!