Recipes

Guest Blogger: Crystal Coventry
This smoothie is full of healthy antioxidants to help fight aging and disease!

Ingredients:
1 cup frozen or fresh blueberries
1 kiwi peeled and sliced
2 cupped handfuls spinach
1 scoop all natural Protein Powder
1 Tbsp. Ground Flaxseed
1 cup cold water or unsweetened almond milk
Ice (if needed)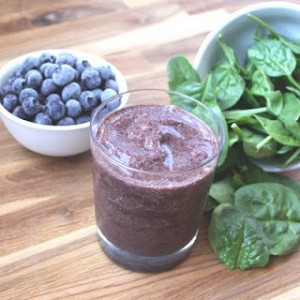 Instructions:
Place all ingredients in blender and blend until desired consistency.
Nutrients per serving (Serving size1): Calories; 269, Carbs: 38g, Total Fat: 5g, Protein: 15g
*The information on this site is designed for educational purposes only and has not been evaluated by the Food and Drug Administration. It is not intended to be a substitute for informed medical advice or care. You should not use this information to diagnose, treat, cure or prevent any health problems or illnesses without consulting your pediatrician or family doctor. Thank you!
~by Kimberly Olson
About Me